There's never been a better time for Canadian companies to invest in warehouse automation technology.
Join Shawn Needham, Senior VP of Global Sales for Attabotics and Sara Hipson, Director of Client Services for Mentor Works to learn more about the latest innovations in warehouse automation (Attabotics) and the grant options available to Canadian businesses (MentorWorks) looking for ways to supplement those investments.
Meet the Speakers
Shawn Needham
Senior VP of Global Sales at Attabotics
Shawn Needham leverages over 20 years of industry experience to enhance client experiences with innovative goods-to-person technology. In his time with the company, he has advanced through various roles, including operations and business development. Needham passionately focuses on optimizing client experiences and bolstering the organization's bottom line through Attabotics' disruptive fulfillment technology.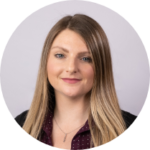 Sara Hipson
Client Services at Mentor Works
In her role at Mentor Works, Sara acts as a dynamic strategic funding advisor dedicated to supporting Canadian businesses. Primarily focused within the high tech and manufacturing sectors, she connects partners and clients with funding and resources to help move forward innovative and strategic projects. Concentrated on economic development and business optimization, Sara leverages government strategic priorities and business best practices, to best advise clients on a strategic approach when entering the funding and incentives landscape. She holds a Master's degree from the University of Toronto and has a keen interest in projects that support sustainable business and clean technology.