TraNSforMinG

the flow of things

Transforming Warehouse and Supply Chain Automation
---
The future of supply chain
We are the next evolution of warehouse fulfillment. Our intelligent platform, The Studio, allows you to store and access what you need, as efficiently as possible. Saving space, cost, and time. Attabotics is transforming the flow of things.
Learn More
The Studio
---
A future-proof platform
We have set out to create an ecosystem of intelligent fulfillment spaces to enable next-generation experiences. The structural and modular cubic architecture of The Studio makes it scalable to almost any size and need, with a state-of-the-art software that is augmentable by design and gives you continuous real-time updates. Our robots do something no other solutions does – move and pick in three dimensions. Designed to transform the flow of things.
The Studio is the next generation of Automated Storage and Retrieval Solutions (ASRS) and will save you space, labor costs, CapEx, and time – to redirect resources to where they can add more value to your operations, letting you achieve much more with less.
85%
Less space than traditional warehouses
75%
Reduction in labor costs
1 HR
Enable 1-hour delivery time
The engine for evolving fulfillment
Attabotics provides a system to power your fulfillment needs, including storage, sequencing, sortation, and conveyance. The Studio can be used in a variety of fulfillment settings, regardless of whether you are building a large new warehouse or setting up a dark store.
Join

the Colony
---
We are talented people bringing revolutionary ideas to life and having fun doing it – we are all in this together. Make a difference through developing technology and solutions to reinvent the supply chain and propel the industry forward.
Browse Openings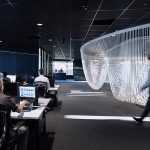 LeTS :: CoNNecT
Ready to transform your warehouse?