THe STUDio
Warehouse Cube Storage Technology
Intelligent cube storage
---
The Studio is an intelligent cube storage system designed with inspiration from nature. Integrated with our proprietary software, we provide the next generation of Automated Storage and Retrieval Systems (ASRS). Our insight-driven approach improves the flow of goods through rich data intelligence and AI/ML technologies.
A future-proof platform
The Studio is based on a dense cube with a 3D storage system and features multiple workstation options for fulfillment and induction/replenishment as well as intelligent robots. It is purpose-built for the high demands from modern consumption and customer expectations. It comes with our proprietary Weave software, designed to handle sequencing, sortation, and conveyance to transform the flow of things.
Our technology improves fulfillment
Space reduction is the first stage of cube storage – with our combination of hardware and software we unlock the full potential of fulfillment automation. Our robots (AttabotTM Blades) can move in three dimensions within the cube (the Gallery), allowing even more storage capacity with faster throughput.
Physical density
Extremely dense cube storage that fits into almost any space, reducing your fulfillment space by up to 85%.
Solution density
Pick, pack, and ship in one integrated process flow of sequencing, sortation and conveyance within the cube.
Direct access
3D robotics gives you direct access to any storage location in less than 90 seconds, regardless of where the item is located in the Gallery.
Integrated software
Our proprietary Weave software, developed in house, operates the entire system and is built for The Studio and nothing else.
Future proof
With infinitely augmentable software and scalable hardware, our platform is designed to grow and change with your needs.
Uptime
Highest uptime of any cube based ASRS system thanks to our 3D structure and state-of-the-art software.
Labor liberation
Free 75% of the labor typically required to be redirected to value-creating tasks that are better suited for humans.
Minimizing CO2 footprint
Our system is designed to reduce the overall climate impact of storage: less warehouse space to climate control, less power to keep things flowing, and less time for idling trucks.
The Gallery
The Gallery is our cube storage facility with a configurable geometry and three-dimensional shuttle access throughout the structure. Our solution is original, scalable, and extremely dense – both in terms of solutions and footprint, allowing you to reduce your warehouse space by up to 85%.
Flexible modular design fits in any space
Reduces space by up to 85 percent
Bins in two sizes, with up to 16 custom storage compartments
Weight limit up to 45 kgs per bin
90 seconds – time to complete single order fulfillment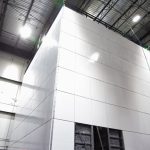 The AttabotTM Blade
The AttabotTM Blade is our intelligent robot. It is designed to move freely, both horizontally and vertically throughout the structure. Combined with the Gallery's 3D structure, it creates a fast and efficient system.
Direct access to every storage location – with access to any bin at any time
No single point of failure. The system can keep working even if an AttabotTM Blade is down
Add new robots without interrupting your operation
Travel speed of 2.7m/s in 3 dimensions
Recharge on-the-fly


(No battery)
The Nodes
The Nodes are our workstations, where your orders are received and where you fill the Gallery with new goods. Each node will increase productivity, reducing the dependency on physical human labor. We ensure that any order can be completed at your station, adding as many Nodes to your Gallery as you want.
Complete any order at any Node
Pick, pack, and ship in one single and integrated process flow
Nodes can be installed at any time without interrupting your operation
Configurable for all processes
Easy-to-operate touchscreen monitor
Increased safety awareness features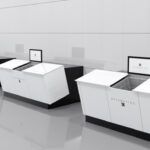 The Weave software
Weave is the order management and control solution developed by Attabotics to efficiently manage the movement of robots and fulfillment of orders. It is optimized for the three-dimensional design of the Gallery, enabling our shuttles to run in 90-second waves for faster throughput and less downtime. Weave is designed to grow with your ambitions, connecting new fulfillment spaces as you move closer to your customers.
Continuous processing flow
Intelligent inventory management
Integration API for fast WMS connectivity

Optional

continuous 5G wireless communications to the AttaBotTM Blades
Customizable order processing for any business rule
Frequently asked questions
No. Attabotics' system is designed to suit your building including working around walls, corners, and consuming existing building columns inside the structure to allow maximum storage density within a facility.
Attabotics systems can be built up to 9 meters (29 feet 6 inches).
Yes – regardless of API, we have a communications layer that can communicate with any host system as long as it's specified.
Yes, the Attabotics workstations can be used for picking, decanting, cycle counts, and kitting. These functions are available at each workstation by selecting the mode through the HMI.
No, all maintenance is done at ground level through robot maintenance bays.
No, the AttabotTM charges using supercapacitors while inside the Gallery – charging while at work.
LeTS :: CoNNecT
Ready to transform your warehouse?