Class leading storage density
Attabotics stands apart from competing automation solutions with its combination of storage density, flexibility, and efficiency. With our intelligent cube storage system, upgrade your fulfillment with:
100% access to every bin
200% more throughput (than leading competitors)
85% space reduction
Class-leading bin capabilities
Learn About Our Tech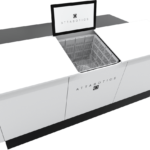 We lead the way in ASRS throughput with Node X
The Attabotics solution's new Node X improves on a proven, innovative design to further enhance performance. Featuring an ergonomic pick port, Node X provides an average of 300 bin presentations per hour, with up to 400 bin presentations per hour once fully optimized. Additionally, Node X achieves higher density, an improved operator experience, more safety features and increased efficiency. Interested in learning the complete scope of our Node X capabilities? Click below for the full spec sheet.
Learn More